2020-2021 Finalist
Women's Action Towards Climate Resilience for the Urban Poor
"Empowering women to be community climate leaders"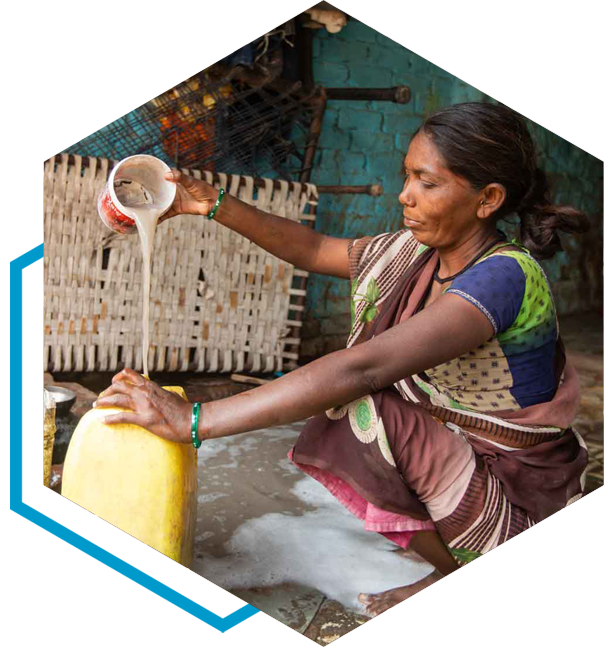 Location
Ahmedabad, India
THE PROBLEM
Rapid urban expansion and increased severe weather events have made slum communities particularly vulnerable to climate change, causing damage, disease and loss of critical livelihoods that disproportionately affect women.
The Big Idea
Empower women to conduct climate risk assessments for water shortages, extreme heat, flash floods and vector-borne diseases through a partnership model that helps them access and implement both technical and non-technical solutions in their communities.
Life Changing Impact
Increased household and community resilience through a range of physical upgrades, increased access to city-level initiatives and decision-making, and improved status of women in community and municipal decision-making processes.
Ripple Effect
Established formal input channels into multiple municipal climate action plans, including those for heat and monsoons, and inspired the creation of similar models in six other cities across South Asia.
The Mahila Housing Trust (MHT) is empowering women in slum communities to be climate champions for themselves and their cities. Slum dwellers the world over face increased exposure to the effects of climate change, but women in particular are often at the front lines, given their high likelihood to work from home. MHT formed a partnership with the local municipal government in Ahmedabad and technical experts to develop low-cost, effective solutions. Building on local women's deep knowledge, this partnership trains champions to implement pro‐poor solutions and has influenced Ahmedabad and other cities' wider climate action planning.
In the last decade, climate resilience has emerged as a major issue in Ahmedabad, as increasing urbanization intersects with heat extremes, water scarcity, flooding, vector-borne diseases and other negative climatic changes. Those living in informal settlements suffer most because they often reside in lower-lying, flood-prone areas and in homes that trap heat and have less resilience to flooding. Disruptions can force residents to reduce working hours to remove water or care for themselves or others after falling sick from heat stroke, dengue and other vector-borne diseases. Women are particularly affected since their livelihoods are more dependent on work done in their homes.
In 2010, a deadly heat wave claimed more than 1,300 lives in one month, serving as a wake-up call for the city. The Ahmedabad Municipal Corporation (AMC) prepared its first Heat Action Plan in 2013, building on a track record of successive urban development and slum upgrading programs. MHT had worked alongside the AMC for more than 20 years on slum housing and water and sanitation infrastructure to bring the benefits of urban development within reach of more residents. In 2014, MHT decided to more consciously incorporate a climate resilience perspective into its work.
MHT quickly understood that many climate-resilient solutions already existed. However, there was a gap between the solutions on offer and the specific needs of slum communities. MHT began forming partnerships with technical institutions and innovators, leveraging its networks and reputation among slum communities and AMC officials, to improve understanding of the challenges faced by residents and the co-creation of viable solutions.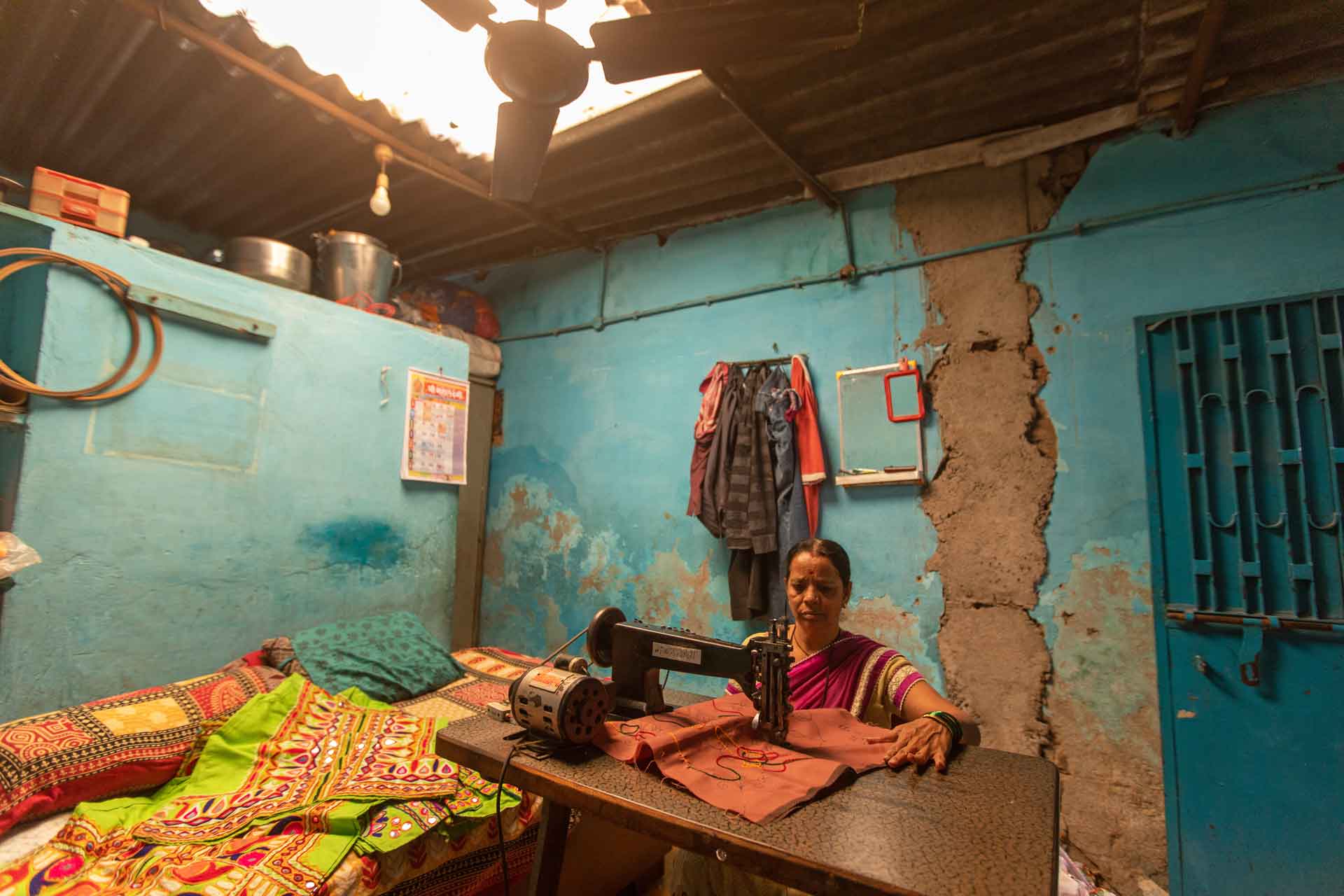 In 2015, MHT began piloting its partnership model, with designated local women leaders called Vikasinis taking the lead in organizing focus group discussions with residents. Together the Vikasinis and residents identified extreme heat, flooding, water scarcity and vector-borne diseases to be the major climate risks affecting their communities. MHT then held a variety of stakeholder and coalition building workshops with technical experts and local leaders to develop actionable solutions.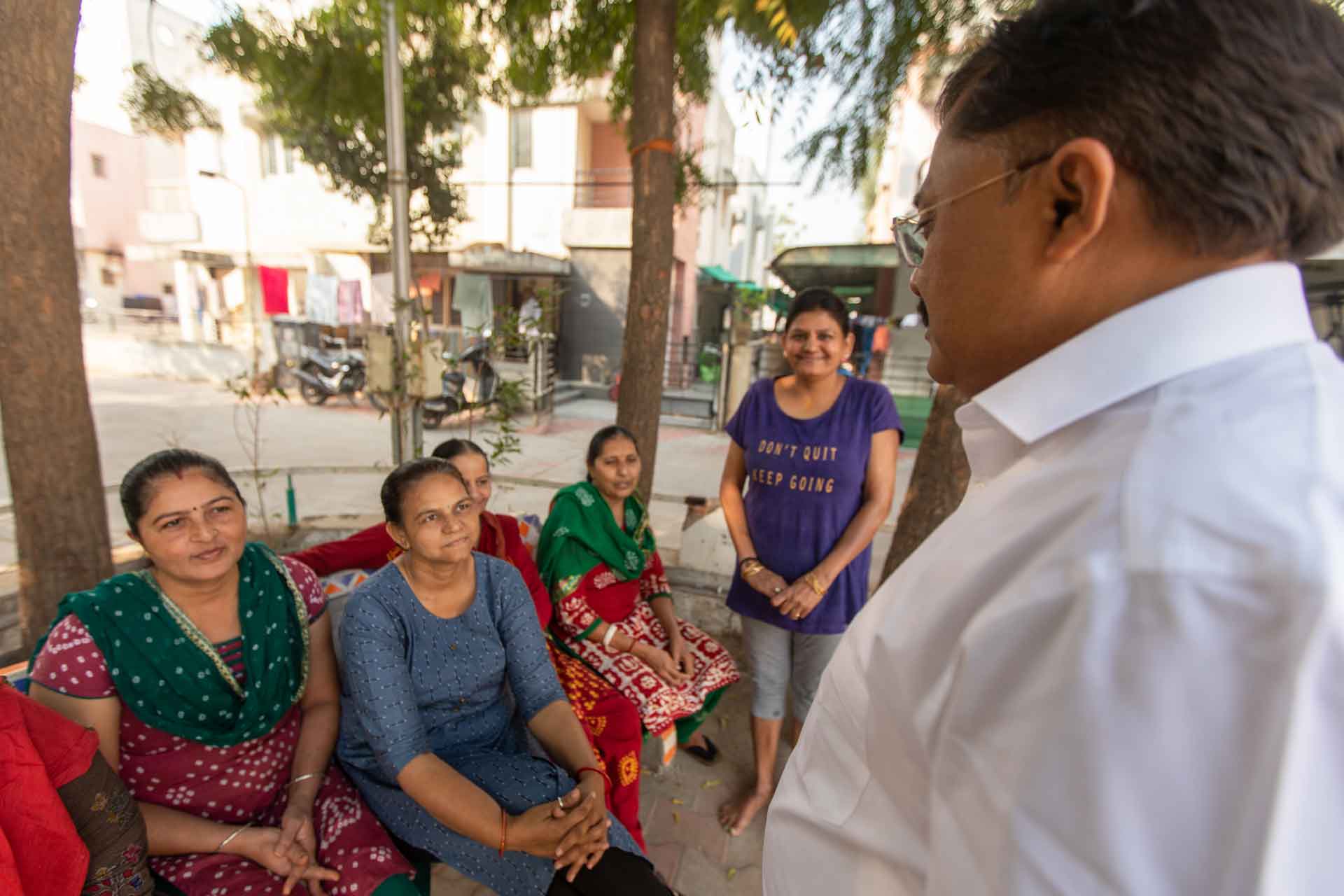 Women's Action Towards Climate Resilience for the Urban Poor officially launched the following February. MHT organized climate trainings for Vikasinis and gathered their feedback, building it into their evolving model for working with communities. MHT set up community-based monitoring stations and began field-testing solutions. Young people from the neighborhoods were recruited to help collect data. Solutions included household-level interventions such as white paints to reflect the sun off rooftops and reduce temperatures within homes, and sprinkler taps which allow residents greater control of their water use, as well as community-level interventions like water meters, which allow community members to track their water use. Field demonstrations helped validate and finetune these solutions. They also helped the community understand them and encouraged households to make resilient investments.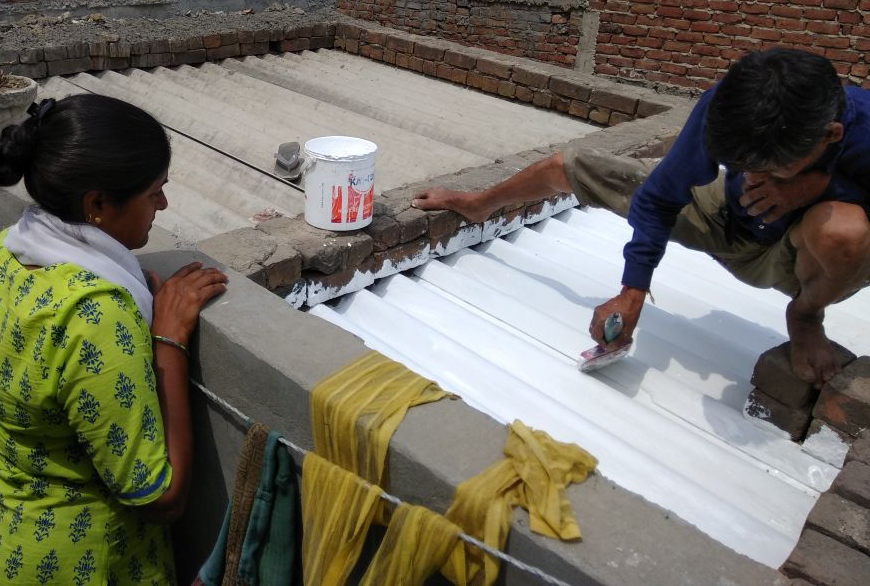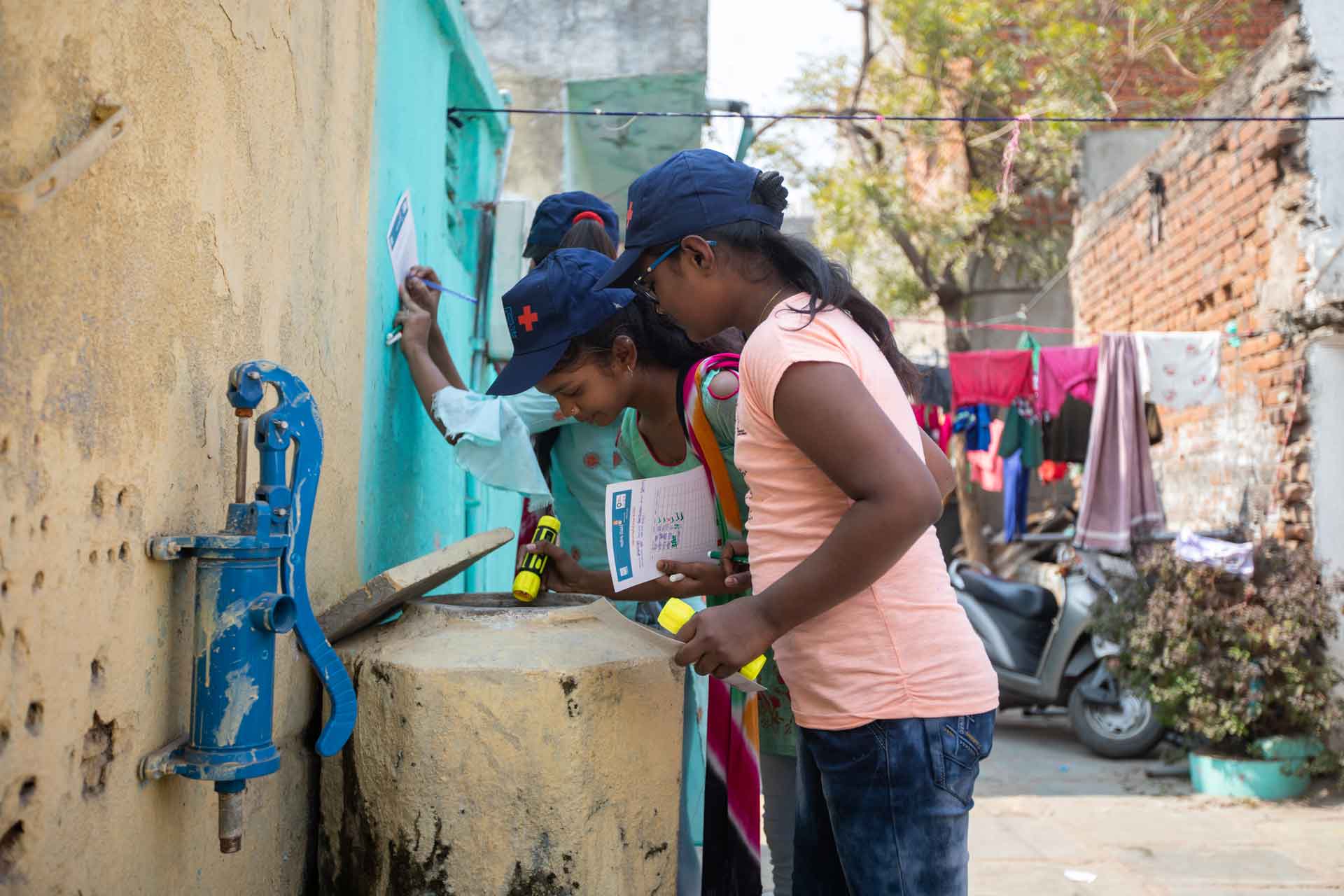 After training women for almost a year, MHT started a climate surveillance system, setting up monitoring stations and training children to collect data on larvae breeding spots. The drive was hugely successful in deepening community awareness of climate risks and motivating behavior change. MHT added an additional campaign for water quality testing in early 2017, which led many families to invest in water purifiers. Using evidence from these drives, communities sent requests to the AMC to clear drains, pave streets, connect water and sewer lines, and install streetlights. Communities also acted on their own, organizing waste collection campaigns and planting trees.
Meanwhile, MHT encouraged families to make climate-resilient investments by demonstrating cool roofing solutions, such as white paints and thermocol roofs, as well as sprinkler taps, rainwater harvesting systems and mosquito nets. The cool roofing solutions garnered particular interest from the AMC Health Department, and MHT was brought in to share knowledge for the development of the city's 2017 Heat Action Plan.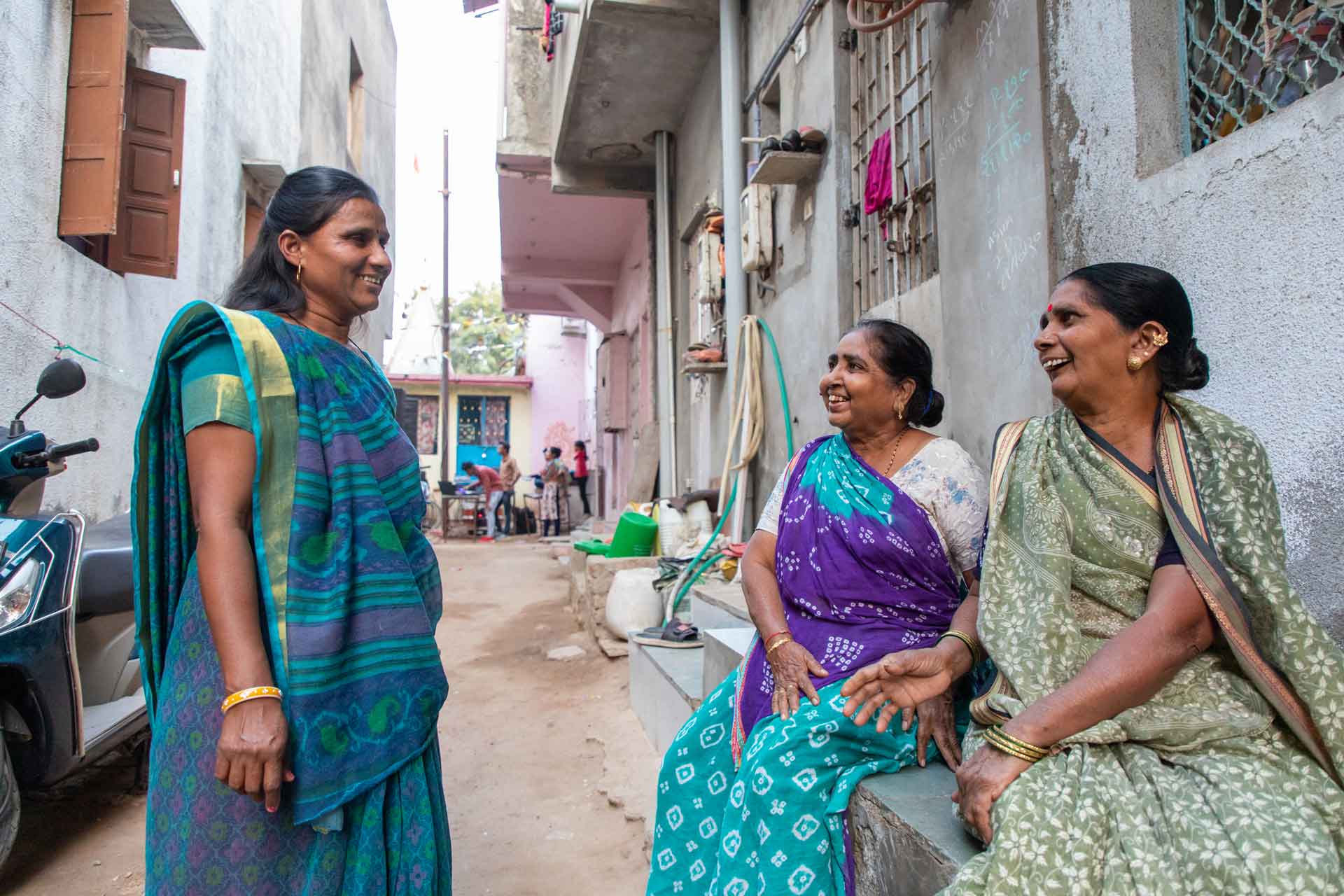 Due to MHT's longstanding collaboration with the AMC, they have also been able to put community climate resilience on the broader municipal agenda. MHT and the Vikasinis inputted directly in the 2017 Ahmedabad Heat Action and the 2019 Monsoon Action Plans from the city. The model has scaled beyond Ahmedabad as well, reaching over 125,000 people from 107 slums across six other South Asian cities, including Bhopal, Bhubaneswar, Jaipur, Ranchi, Dhaka, and Kathmandu.
By The Numbers
5 million people benefit from Ahmedabad Heat Action Plan
50,000 people impacted by Monsoon Action Plan
125,000 people benefit across 107 slums in 7 South Asian cities
17,000 cool roofs for affordable housing units
3,338 families received microloans to invest in home climate solutions
2020-2021

SUBMISSIONS
262 SUBMISSIONS
160 CITIES
54 COUNTRIES
6 LANGUAGES